IASB ED/2021/6
Management Commentary
The International Accounting Standards Board (IASB) has recently issued for comment an Exposure Draft on Management Commentary (the ED).
Management commentary is a report that complements an entity's financial statements. It helps explain the amounts reported in the financial statements and gives management's insights into factors that could affect the company's future prospects. It is often included in an entity's annual report, and is sometimes referred to as a Directors' Report or Management Discussion and Analysis (MD&A).
Generally, there are currently no specific legislative requirements in New Zealand for companies to provide management commentary type information. However, the New Zealand Stock Exchange (NZX) has issued requirements and guidance for listed companies on the disclosure of this type of information, and the Financial Markets Authority (FMA) has issued guidance for FMC reporting entities on reporting such information.
The ED proposes a framework to assist entities that prepare management commentary information by providing guidance on what to disclose, based on the consideration of investor information needs. The proposed framework builds on recent innovations in narrative reporting and represents a major overhaul of the existing IFRS Practice Statement 1 Management Commentary.
The proposals emphasise that management commentary seeks not only to explain an entity's financial statements, but also give investors insights into factors that affect an entity's ability to create value and generate cash flows, including in the long term.
IFRS Standards do not require entities to provide management commentary – this is unchanged by the proposed new framework. However, entities may choose to apply the proposed framework when considering what information to provide in their annual report.
The IASB's brief video below summarises the proposals in the ED.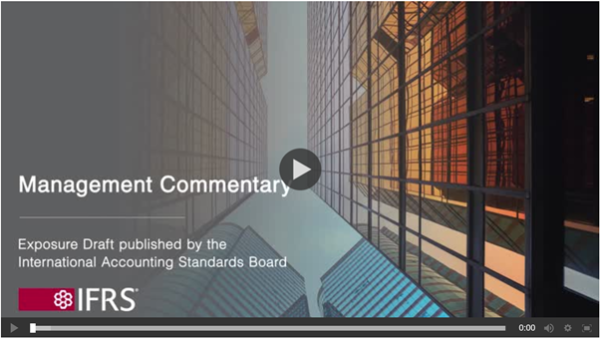 The External Reporting Board (XRB Board) encourages you to read the ED and to comment on the proposals.
The proposals will result in the issuance of an IFRS Practice Statement, which would not form part of NZ IFRS, but will be available to New Zealand constituents for voluntary application.
---
Commenting on the Proposals
This is your opportunity to comment on these proposals.
We encourage you to send comments directly to the IASB, by 23 November 2021, with a copy to the XRB Board. Your comments can be made electronically to the IASB website by clicking on the following link https://www.ifrs.org/projects/open-for-comment/. First-time users must register to submit electronically.
---