News
Latest External Reporting Board news, presentations, and publications.
---
Climate-related disclosure consultation launch - video
Watch the launch of our first climate-related disclosure consultation document, where we were joined by Hon Dr. David Clark (Minister for Commerce & Consumer Affairs) and Hon James Shaw (Minister for Climate Change).
---
20 October 2021
First ever Climate Change-related disclosure consultation begins
The External Reporting Board (XRB) today began consultation with business on the first part of the Government's proposed climate-related disclosure standards.
"Ultimately, this will be about making sure the impacts of climate change are actively considered by boards and management so that smarter business and investment decisions can be made, and entities demonstrate accountability and foresight in relation to climate issues," says Chief Executive April Mackenzie.
Development of these standards follows the announcement in 2020 to introduce a mandatory reporting regime for key New Zealand companies including large, listed issuers and financial sector entities.
"These standards will put Aotearoa New Zealand up with the global best - building on the four areas developed by the international Task Force on Climate-related Financial Disclosures (TCFD).
"Together Governance, Risk Management, Strategy, and Metrics and Targets sections make up the Climate-related disclosure standards, and we're kicking off the process with consultation on the Governance and Risk Management areas."
The decision to focus first on Governance and Risk Management has been deliberate says Mackenzie.
"For affected entities these areas should be straightforward to implement, whereas the Strategy, and Metrics and Targets sections are more complex areas that will require many entities to capture new information and implement new processes. We're currently working through what that could look like before launching the next draft sections in March next year," added Mackenzie
Governance disclosures specify what entities need to disclose regarding board oversight and management assessment of climate-related risks and opportunities, while Risk Management disclosures are about the processes an entity uses to identify, assess, and manage climate-related risks, and how these are integrated into an entity's overall risk management processes.
The current consultation closes 22 November.

https://www.xrb.govt.nz/extended-external-reporting/climate-related-disclosures/consultation-and-engagement/governance-and-risk-management-consultation-document
---
24 September 2021
New auditing standard for Less Complex Entities proposed
A new standard that would allow audits to be scalable and proportionate for Less Complex Entities is being proposed by the International Auditing and Assurance Standards Board (IAASB).
Currently, all entities, regardless of complexity, are audited in accordance with the same standards - the International Standards on Auditing (ISAs). However, there has been growing concern about the length, relevance, and understandability of the ISAs, and their application to audits of LCEs.
In response to these concerns, the IAASB has developed a draft stand-alone standard, that will allow audits to be scalable and proportionate for LCEs. The proposed standard is based on the same principles as the ISAs, but its requirements are designed specifically for audits of LCEs.
The draft standard is designed to:
Be understandable, clear and concise
Support global consistency and comparability and;
Enable quality audits.
The XRB is now seeking feedback from users, preparers, auditors and entities subject to audits, and are hosting a webinar on 12 October to provide an overview of the proposal.
Following that, a Virtual Feedback Forum on 18 October, will provide an opportunity for preparers and users' to provide their views on the proposed auditing standard.
The following fact sheet provides a summary of what the proposal is about, and what it may mean for users, preparers, auditors and entities subject to audits.
---
1 July 2021
XRB celebrates 10 years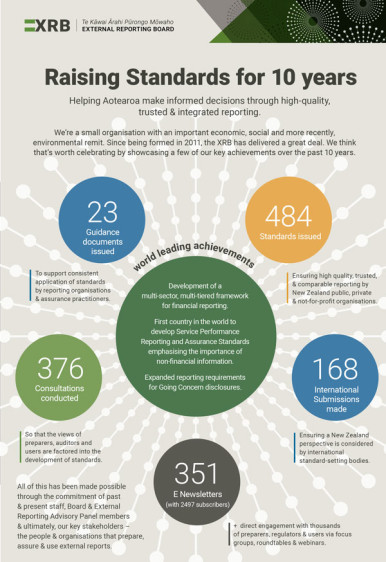 ---
17 June 2021
XRB appoints Climate Policy expert
Media Release
Today Chief Executive of the External Reporting Board, April Mackenzie, has announced the appointment of Dr Amelia Sharman as Director of Climate Reporting. Dr Sharman will be responsible for managing the execution and co-ordination of the Climate-related Disclosure Standard(s) project.
"I am delighted that Amelia will be joining us at the XRB to lead this important work. She brings a wealth of climate expertise and experience to this role, and I look forward to welcoming her into our management team," says Mackenzie.
"This is a priority project for the XRB, and we're proud to be part of taking New Zealand a step closer towards a low carbon future.
I'd also like to thank the many high-calibre candidates who expressed an interest in this role", says Mackenzie.
Dr Sharman has an extensive background in climate and sustainability policy areas, most recently as Head of Policy at Ara Ake, the entity responsible for accelerating energy innovation to support New Zealand's transition to a low-emissions energy future. Previously, Dr Sharman worked for the New Zealand Productivity Commission contributing to climate and sustainability reports on New Zealand's transition to a low-emissions economy. Most notably, Dr Sharman was at the forefront of the Commission's analysis into climate-related financial disclosures, and subsequently developed the Commission's final recommendation on the disclosure regime for New Zealand.
Dr Sharman will join the XRB on 28 June 2021.
---
9 September 2020
NZ Accounting Standards Board Chair appointment
The External Reporting Board (XRB) is delighted to announce the appointment of a new Chair of the New Zealand Accounting Standards Board (NZASB). Carolyn Cordery will take up the position from early 2021.
Carolyn is well known in accounting standard circles, having previously played a key role in the original development of New Zealand's current suite of financial reporting standards.
XRB Chief Executive, April Mackenzie, welcomes Carolyn's appointment. "We are very pleased to have someone of Carolyn's calibre and expertise to lead the NZASB," she said.
"While Carolyn is known for her expertise and knowledge of the not-for-profit sector, Carolyn also has a broad range of experience across all fields of financial reporting and assurance," she said.
Carolyn says she is looking forward to taking on the challenge of maintaining the quality of New Zealand accounting standards, while also ensuring they meet future user-needs in this continually evolving environment.
"I am excited to be appointed to this important role to help build and maintain the trust and confidence of external reporting in New Zealand – whether it is from the corporate, public or not-for-profit sectors," she said.
Carolyn is currently Professor of Charity Accounting and Accountability at Aston Business School in Birmingham, UK. She holds a position at the School of Accounting and Commercial law at Victoria University of Wellington, where she had also obtained her PhD and had worked since 2005. Carolyn was a NZASB Board member from 2011-2016.
Carolyn has undertaken commissioned research projects, published internationally, and is on the editorial board of several academic journals. She teaches risk management, financial reporting and audit. She is a Fellow of Chartered Accountants Australia and New Zealand and a Fellow of CPA Australia.
---
20 March 2020
Regulator response to COVID-19
The following regulators have recently issued notices in response to the impact of COVID-19 on New Zealand reporting entities.
Financial Markets Authority (FMA) and NZX
In collaboration with the NZX, the FMA has announced that NZX-listed firms, FMC reporting entities and auditors will be given more time to publish their audited financial statements — they have extended the reporting deadlines by two months.
For further information, please refer to the following links:
Charities Services
There is information on COVID-19 for registered charities to address specific concerns that Charities Services has become aware of. This includes information about how registered charities can request a filing extension for their annual return and financial statements.
---
8 November 2019
Media Release - New XRB Chief Executive brings wealth of international experience
The External Reporting Board (XRB) has appointed April Mackenzie (pictured) as its new Chief Executive, welcoming her deep international and local experience at a time when global uncertainty and disruption make trust in external reporting is more important than ever.
Mackenzie has extensive experience in external reporting in New Zealand and internationally. She acted as Interim Chief Executive for the International Valuation Standards Council, following ten years as Global Head of Governance and Public Policy for Grant Thornton International, where she was a partner.
"April's experience with international standard-setting bodies will be invaluable" said Michele Embling, XRB Chair. "New Zealand's competitiveness relies on people having trust and confidence in our regulatory environment and external reporting of our entities across all sectors. Our stakeholders at home and overseas rely on reporting standards being robust, meeting accountability needs, and being suitable for an evolving business environment."
"April's considerable work with key international standards forums will help us as we contribute to global conversations around the evolving role of accounting and audit standards and ensure that our standards framework remains fit for purpose for the future and contributes to the sustainable and inclusive economic goals of New Zealanders."
Mackenzie was also previously Divisional Director of Policy for the New Zealand Institute of Chartered Accountants (now Chartered Accountants Australia and New Zealand) and has a background in accounting and auditing with Touche Ross & Co in the United Kingdom and New Zealand, the New Zealand Securities Commission and the New Zealand Audit Office. She has served as a technical advisor on the International Public Sector Accounting Standards Board (IPSASB)of the International Federation of Accountants (IFAC), the international body which also oversees the work of the International Audit and Assurance Standards Board (IAASB,). She has been a member of the International Financial Reporting Standards Advisory Council (IFRS), the Global Public Policy Committee, and the Joint Ethics Committee of the Consultative Committee of Accounting Bodies in the United Kingdom.
"Accountability and transparency form the foundations of the private, public and not-for-profit sectors. It is critical that there is confidence in financial information used within organisations and by markets. I am very pleased to join the External Reporting Board team, to contribute to the important and valuable work that they do," said Mackenzie.
She is a Fellow of Chartered Accountants Australia and New Zealand and holds a Master of Commerce (Hon) from University of Auckland. She replaces Chief Executive Warren Allen who retires in December, after four years in the role. April Mackenzie will commence in December.
---
7 May 2019
XRB Board changes announced
"It is pleasing to record our Minister, Hon. Faafoi, Minister of Commerce and Consumer Affairs announced recently the new Chair, new members and reappointments to the XRB Board," says XRB Chief Executive, Warren Allen.
The details are as follows (all terms commence 1 May 2019):
"I am thrilled these appointments have now been resolved and we can be very pleased with the balance of new talent and continuation of institutional knowledge this announcement confirms," says Warren.
"We can all look forward to working with the new XRB Board and I am convinced we continue to be blessed with a committed and competent Board."
---
11 July 2018
True to Label?
How is value measured in the NFP sector?
A major research report looking at how value is measured in the non-profit sector in Aotearoa New Zealand.
Written by John Page, Sport New Zealand's recent governance consultant, it looks at 55 organisations including 15 sport and recreation bodies.
Examining publicly available documents, it asks how an interested party can tell what has been achieved using time and money provided by others.
It is ultimately intended to be helpful, assisting organisations tell their story better in a complex and changing world.
"I am going to make this mandatory reading for the boards I am involved in, such is the value, power and clarity of some of the messages in here" - Craig Fisher, Audit Partner and Chairman RSM Hayes, writing in the foreword.
Download here
---
15 March 2018
Businesses need to respond to increasing user demand for non-financial information
External Reporting Board & McGuinness Institute
Joint Media Release 14 March
Interested parties are increasingly expecting more relevant and reliable non-financial information from extended external reporting but companies are slow to meet the demand, new research finds.
The External Reporting Board (XRB) in collaboration with the McGuinness Institute published the 2017 Extended External Reporting Surveys today.
Published in two separate surveys, the research studies the attitudes of company CFOs (Preparers' Survey) and interested parties (Users' Survey) towards Extended External Reporting (EER) in New Zealand.
The results from the two surveys are reported in key parts and compared in the documents, Survey Insights and Survey Highlights. These include what respondents think about 'content', 'frameworks' and 'assurance' of extended external reporting, and highlight conflicting attitudes in the supply and demand of non-financial information.
While both Preparers of external reporting and Users welcome the reporting of performance details and industry-specific statistics, Users generally want more information than Preparers currently provide. The study shows 63% of Preparers think it is important or very important to disclose information on strategies to achieve goals, compared to 95% of Users. Yet only 42% of Users consider this is well reported.
It is evident from the research that a significant number of Preparers are not aware of the range of global EER frameworks currently available.
Independent assurance is an emerging global requirement for EER information as it inspires trust, which enables companies to build good relationships with stakeholders. To this end, 56% of Preparers think EER should be independently assured, compared to 76% of Users.
External Reporting Board chief executive Warren Allen says: "The Users have spoken: Preparers need to re-balance their priorities to better serve the interest of multiple stakeholders (the Users). Focus on short-term financial returns to investors alone will sap growth and increase the cost of doing business."
McGuinness Institute chief executive Wendy McGuinness says: "Further reporting on industry statistics enables comparability between companies and industries, and contributes to a deeper understanding of trends and risks over time. At the crux, Users are highlighting a demand for more relevant and reliable information. The question for discussion is how we develop a system that meets the needs of Users without adding layers of bureaucracy."
For the McGuinness Institute, the Extended External Reporting research is part of a wider policy project: Project ReportingNZ.
---
9 November 2017
Public Benefit Entities – Service Performance Reporting
Tier 1 & 2
Accounting Standards
When the NZASB first issued PBE Standards in 2013, it signalled its intention to develop a financial reporting standard on service performance information for Tier 1 and Tier 2 public benefit entities.
Today, we are issuing PBE FRS 48 Service Performance Reporting.
"Service provision for community or social benefit is the primary objective of public benefit entities." said NZASB Chair Kimberley Crook.
"Service performance information is an important part of the accountability of public benefit entities. We are very pleased today to issue our domestic standard on service performance reporting. This is the culmination of a lot of work, and we thank our constituents for their engagement and feedback along the way."
The new standard has been developed for Tier 1 and Tier 2 public benefit entities.
Any changes to the service performance reporting requirements of Tier 3 and Tier 4 public benefit entities will be considered later.
PBE FRS 48 Service Performance Reporting
This standard establishes new requirements for the selection and presentation of service performance information.
An entity must provide users with
sufficient contextual information to understand why the entity exists, what it intends to achieve in broad terms over the medium to long term, and how it goes about this; and
information about what the entity has done during the reporting period in working towards its broader aims and objectives.
In order to be suitable for a wide range of entities to be able to apply, the standard establishes high level requirements.
Because the presentation of service performance information in accordance with the standard can require judgement, the standard also requires disclosures about judgements made in applying the standard.
The standard is effective for annual financial reports covering periods beginning on or after 1 January 2021, with early application permitted.
---
30 October 2017
Finding our standards now made easier...
What do you think of our new-look website?
We launched this back in April, but we've now added further changes to the home page to enhance your visitor experience and searchability.
We hope you'll like this fresher design and can find what you're looking for more easily.

Remember to scroll down the home page where you'll also find latest news, upcoming events, direct access to newsworthy information and popular site pages.

We now offer a comprehensive site search feature. Here you can search the site directly for any information you're seeking.

The search engine also searches PDFs—so it's now possible to find specific words or terms across all our standards (stored on the site as PDFs).
You can also view the website easily on a mobile phone or tablet as well. Try it and see!
---
27 March 2017
Are International Auditing Standards suitable for small audits?
Craig Fisher (pictured left) from the NZAuASB and Justin Reid (right) from the AUASB recently attended an IAASB Conference in Paris.

International Standards on Auditing (ISAs) are the gold standard when it comes to audit standards. They are set by a truly international body with a sound governance and due process framework which seeks input from as broad a range of stakeholders as possible. As such, they have been adopted by a large proportion of countries as their official audit standards. In addition, many countries that have yet to adopt them use the ISAs as the base for their own domestic standards.
However due to a range of reasons ISAs have increasingly been perceived as possibly inappropriate for small audits by some parties.
Also at question was what other alternative services are being provided around the world, as well as gaining a better understanding the specific challenges facing Small to Medium Practices (SMPs) in the audits of Small to Medium Entities (SMEs)
This article highlights some of the issues that led to the IAASB forum, key features of the forum, and some possible ways forward.
Representing 'down under' at the Paris conference
Held over two days (26-27 January), the Paris forum saw close to 100 delegates from all over the world meet to exclusively discuss the issues facing the auditing of SMEs by SMPs.
On the agenda were two key issues:
What non-audit services were SMPs providing their SME clients, and
Were the ISAs in their current form scalable for the use on SMEs?
Both New Zealand and Australia have adopted ISAs as part of our respective countries' commitment to global standards and best practice and on a world stage, we are essentially countries dominated by SMPs who are auditing SMEs.
It was therefore important that the authors as respective members of the New Zealand and Australian Auditing and Assurance standards Boards (NZAuASB and AUASB) attended this inaugural and vitally important international forum.
It was a pleasure to represent our countries because from an international perspective we are generally seen as proactive first world economies, responsible international citizens, albeit very small countries in population terms, that are somewhat geographically isolated, but also have a habit of getting on with the job and with practical solutions. Hence, we are often a lovely test case for other larger counterparts to observe and learn from.
New Zealand and Australia also have a very strong and active involvement and positive reputation in standard-setting circles.
While it may be seen as a cliché by some: we do punch well above our weight. As a New Zealander, for example, one only needs to look around the room at such an international standards forum to observe that most other attendees come from cities with larger populations than our entire country! Yet, our views are sought after and listened to.
It is also very pleasing from a trans-Tasman harmonisation perspective that we also usually speak with a common viewpoint.
Is there a problem?
Anyone involved in auditing over the past 20 years will attest to a continued growth in the number, specificity, and volume of audit standards that an auditor of historical financial statements is required to comply with.
While many will argue that the fundamentals of a good independent audit remain largely the same, there is no denying we have now ended up with much more detailed and explicit standards.
Contributing factors for this over time have been:
A move to creating a single globally applicable standard set that can apply to any audit;
Increasing complexity of business;
Increasing concern over quality of auditing as a safeguard;
Increased regulatory input and influence, and
An ongoing desire to reduce the ever-present audit 'expectation gap'.
Several of the above factors are also quite multi-layered. For example, creating a globally applicable standard set involves the challenge of accommodating varied legal and business practices in different countries.
There is also the fundamental challenge of language translation to achieve a common understanding. A complexity not to be underestimated when some terms simply do not exist in some languages!
With regard to the increased regulatory input, this has been a key and growing feature in recent years.
Following Enron, and the more recent GFC, the number of, and the sphere of influence by financial regulators has continued to grow and the audit profession has not been immune to their growing influence. In fact, some would assert that auditors have been disproportionately impacted by increased regulation.
This is because they are a profession that operates under strong ethical guidelines and standards. As a result, they can be regulated, perhaps more easily than some other participants, in the financial information supply chain.
The result has been significantly increased compliance obligations and increasing tensions in many jurisdictions.
While the logic of requiring regulation is undoubtedly sound for the protection of capital markets, there are views that regulatory impact, especially in terms of compliance cost, may be becoming disproportionate.
Has the pendulum swung too far and are the gains from the increased regulation outweighing the compliance costs?
Another key feature of regulator input on audit and assurance standards has been moving these from a principle-based approach to what some would say is a muddled combination of both rules and principles.
This has further served to lengthen the ISAs.
Ironically, the attempts to better explain audit requirements within standards by providing greater application material has served to not only lengthen them, but some have argued widened, the gap between auditors and the expectations of regulators.
This is perceived to be due to many regulators having interpreted application material within the ISAs as minimum requirements.
The adoption of the ISAs with the concept of "mandatory" requirements has resulted in many regulators constantly challenging auditors over the application of professional judgement and scepticism when choosing not to apply "mandatory" elements to an SME audit.
There is also the conundrum in auditing that generally the smaller the entity, the more disproportionate the cost of audit compliance.
Hence the combination of increasingly poor economics of providing audit to SMEs, combined with the increasing regulatory pressure and risk, is having the impact of driving some auditors out of the profession.
Calls for change
With all the above impacting the "single set of audit standards to be applied to all audits", there have been increasing calls for change in the ISAs to better accommodate for the audit of SMEs. Hence it was very pleasing to see the IAASB acknowledging this increasing issue and along with the kind hosting of French professional bodies hosting this forum.
With over 100 attendees from international standard setters, professional accounting bodies, audit firms, and even some regulators, interest was high.
The Nordic Federation have even gone as far as to try and develop a draft simple standard for the audits of small entities. This Nordic Standard for Audit of Small Entities (SASE) was discussed, with concerns raised over the unintended consequences of a differential audit standard.
Concerns include:
two-tiered audit providers;
a perception that an SME audit would be considered an inferior product; and
worldwide consensus would be impossible to achieve on what an SME audit standard should or should not contain. When exploring this topic even trying to reach a sensible consensus on what is the definition of a SME proved challenging!
Australasia had similar loud calls a few years ago, for "differential auditing standards". However, while initially attractive as a concept, once you investigate this concept in practical detail it quickly proves problematic. There already exists quite an audit "expectation" gap, and the danger of adding a different level of audit would serve to add further confusion.
Hence, despite some mixed views, the conference was not supportive of the development of new standards directed towards the audit of SMEs. There was consensus that ISAs are portable and scalable for any sized (or risk) audit.
However, there was also consensus that there needs to be better understanding of the concepts of scalability (which is a synonym for flexibility), and proportionality (risk) which are fundamental to the concept of applying professional judgement.
Are the ISAs scalable for the audit of SMEs?
Brendan Murtagh, IAASB Member (Ireland) spoke at the Paris forum specifically on the issue of the scalability and proportionality of the ISAs.
Brendan reminded the forum that the ISAs are principles-based (scalable) standards built on the foundation of professional judgement of the auditor applying a risk-based (proportional) approach.
Attendees, were reminded that auditors in applying the ISAs to any sized audit engagement are expected to apply their professional judgement in several circumstances that are particularly relevant for SMEs.
Many of the ISAs are clearly not relevant when auditing an SME, such as ISA 610 Using the Work of Internal Auditors.
Many conditions do not exist in the audit of your average SME, thus allowing the auditor to scale down the ISAs' application in those circumstances. An example might be the absence of any need for an auditor's expert opinion as the SME does not have specialist assets requiring complex or subjective valuations, and
Often transactions and balances are not complex or less likely to be subject to fair value judgements than large listed audit clients, therefore the SME audit can often be considered lower-risk. A lower risk of material misstatement again provides the auditor considerable ability to apply their own professional judgement with respect to the nature, timing and extent of the audit procedures conducted.
Going forward the IAASB has on its work plan a focus on the audits of SMEs. Also, at present the revision of two key ISAs (ISA 315 Identifying and Assessing the Risk of Material Misstatement and ISA 540 Auditing Accounting Estimates) are addressing the need to build proportionality into the revisions as well as the ability for auditors to perform risk assessment procedures commensurate with the size and nature of the entity.
These were welcome words to the attendees at the forum and demonstrate the commitment the IAASB has to ensuring that SMP auditors conducting the audits of SMEs are seen as a vital part of the auditing profession going forward.
Possible solutions?
While many possibilities were thoroughly discussed and debated at the conference, the following were some of the key practical solutions put forward:
Improved communication and education – of auditors, of users of audits, and of regulators. While the IAASB is trying to do this, success will only be achieved if all parties who can make a difference are involved, e.g. local standard setters and professional bodies, auditors and regulators.
A fundamental change in standard-setting mind-set and approach. That is, to start drafting standards for the simplest situations, and then providing additional detail for more complex situations when these apply. Currently, ISAs are written to apply to all situations and hence tend to mean that an SMP/SME auditor needs to wade through a lot of detail. On top of this there is additional guidance for SMPs in applying to SMEs, so ironically the small auditors of a small entity may actually have to read the most of any auditor in performing their audit.
This change in approach sounds logical and simple but will no doubt be much more complex, especially in progressively changing all existing audit standards and the practical implications of the speed with which any change can be effected and become applicable.
Where to from here?
The future development of auditing standards at both an international and national level, must continue to consider the needs of SMPs who require practical yet high quality solutions to the ever-growing complexity of audit standards.
As audit standards are revised to naturally address the larger higher risk audit engagements, the standard-setters appear committed to ensuring that the outlook includes the consideration of scalability and proportionality for SMPs conducting the audit of SMEs.
The authors both hope that the wider stakeholders of auditors' reports, including regulators, are able to also apply the same level of professional judgement when it comes to the interpretation of auditing standards.
About the Authors
Craig Fisher FCA is a member of the NZAuASB and is and Audit Partner and Chairman of RSM in New Zealand.
Justin Reid is a member of the AUASB and is an independent provider of consulting assurance services.
---