Latest News
27 January 2022
New Year - New Website!
Kia ora and welcome to our refreshed website.
We recognise that the External Reporting Board's website is a trusted and best source for Accounting and Auditing standards and updates on our Climate-related Disclosures work. The updated website remains true to that purpose, while presenting a clean, uncomplicated introduction to the XRB.
The existing website has remained largely unchanged for a number of years, so updating the site has enabled us to simplify the navigation, de-clutter content pages, and ensure the site is relevant for a broader range of audiences - reflecting the XRB's expanded mandate which now includes climate reporting and ESG.
Upgrading the website has also provided an opportunity to showcase our refreshed visual identity - which features new colours and a circular 'starburst graphic', developed to convey a sense of integration and movement. The starburst also represents how organisations and systems continuously grow, connect and, (like our website) evolve.
This is just the start - this year we will begin scoping digitisation of our standards. Watch this space.
We hope you enjoy the experience - please feel free to email us with any feedback or suggestions.
---
Climate-related disclosure consultation launch - video
Watch the launch of our first climate-related disclosure consultation document, where we were joined by Hon Dr. David Clark (Minister for Commerce & Consumer Affairs) and Hon James Shaw (Minister for Climate Change).
---
24 September 2021
New auditing standard for Less Complex Entities proposed
A new standard that would allow audits to be scalable and proportionate for Less Complex Entities is being proposed by the International Auditing and Assurance Standards Board (IAASB).
Currently, all entities, regardless of complexity, are audited in accordance with the same standards - the International Standards on Auditing (ISAs). However, there has been growing concern about the length, relevance, and understandability of the ISAs, and their application to audits of LCEs.
In response to these concerns, the IAASB has developed a draft stand-alone standard, that will allow audits to be scalable and proportionate for LCEs. The proposed standard is based on the same principles as the ISAs, but its requirements are designed specifically for audits of LCEs.
The draft standard is designed to:
Be understandable, clear and concise
Support global consistency and comparability and;
Enable quality audits.
The XRB is now seeking feedback from users, preparers, auditors and entities subject to audits, and are hosting a webinar on 12 October to provide an overview of the proposal.
Following that, a Virtual Feedback Forum on 18 October, will provide an opportunity for preparers and users' to provide their views on the proposed auditing standard.
The following fact sheet provides a summary of what the proposal is about, and what it may mean for users, preparers, auditors and entities subject to audits.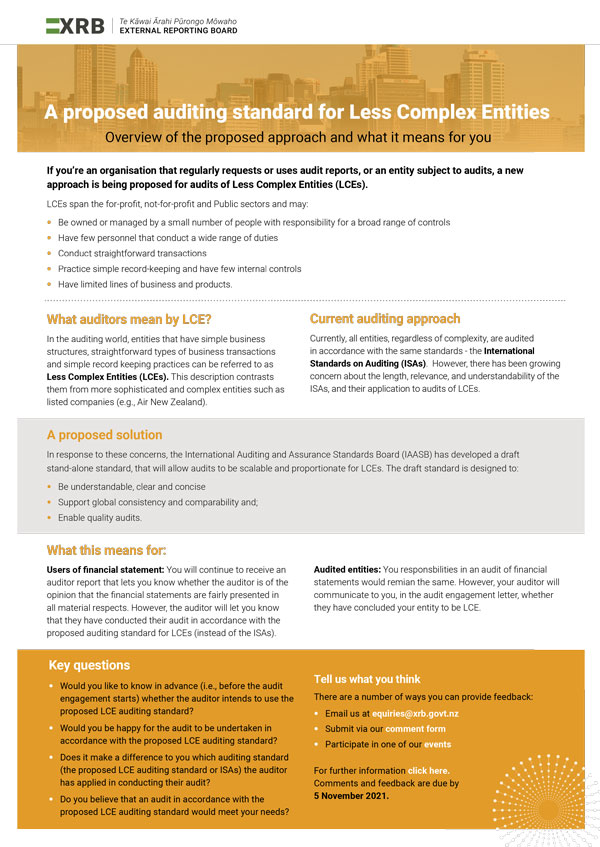 ---
1 July 2021
XRB celebrates 10 years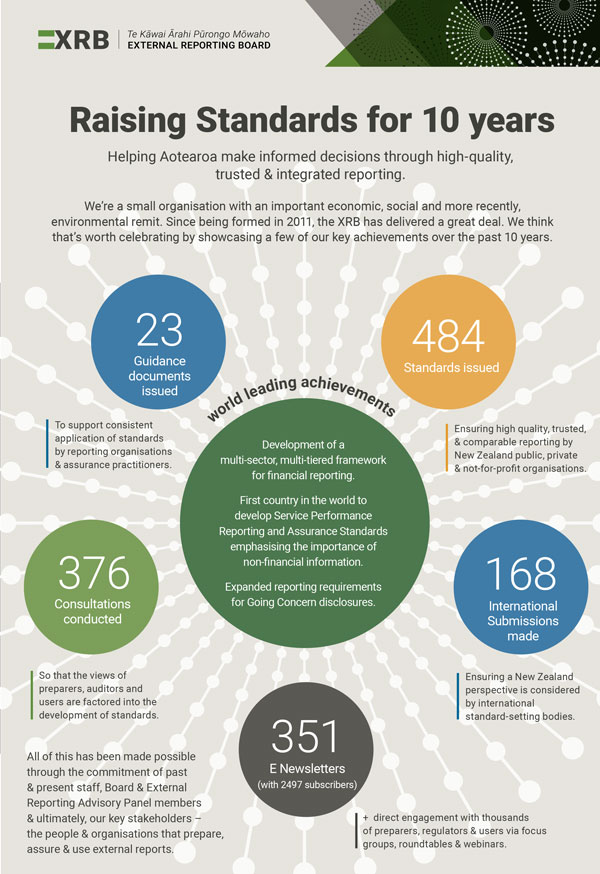 ---
17 June 2021
XRB appoints Climate Policy expert
Media Release
Today Chief Executive of the External Reporting Board, April Mackenzie, has announced the appointment of Dr Amelia Sharman as Director of Climate Reporting. Dr Sharman will be responsible for managing the execution and co-ordination of the Climate-related Disclosure Standard(s) project.
"I am delighted that Amelia will be joining us at the XRB to lead this important work. She brings a wealth of climate expertise and experience to this role, and I look forward to welcoming her into our management team," says Mackenzie.
"This is a priority project for the XRB, and we're proud to be part of taking New Zealand a step closer towards a low carbon future.
I'd also like to thank the many high-calibre candidates who expressed an interest in this role", says Mackenzie.
Dr Sharman has an extensive background in climate and sustainability policy areas, most recently as Head of Policy at Ara Ake, the entity responsible for accelerating energy innovation to support New Zealand's transition to a low-emissions energy future. Previously, Dr Sharman worked for the New Zealand Productivity Commission contributing to climate and sustainability reports on New Zealand's transition to a low-emissions economy. Most notably, Dr Sharman was at the forefront of the Commission's analysis into climate-related financial disclosures, and subsequently developed the Commission's final recommendation on the disclosure regime for New Zealand.
Dr Sharman will join the XRB on 28 June 2021.
---
9 September 2020
NZ Accounting Standards Board Chair appointment
The External Reporting Board (XRB) is delighted to announce the appointment of a new Chair of the New Zealand Accounting Standards Board (NZASB). Carolyn Cordery will take up the position from early 2021.
Carolyn is well known in accounting standard circles, having previously played a key role in the original development of New Zealand's current suite of financial reporting standards.
XRB Chief Executive, April Mackenzie, welcomes Carolyn's appointment. "We are very pleased to have someone of Carolyn's calibre and expertise to lead the NZASB," she said.
"While Carolyn is known for her expertise and knowledge of the not-for-profit sector, Carolyn also has a broad range of experience across all fields of financial reporting and assurance," she said.
Carolyn says she is looking forward to taking on the challenge of maintaining the quality of New Zealand accounting standards, while also ensuring they meet future user-needs in this continually evolving environment.
"I am excited to be appointed to this important role to help build and maintain the trust and confidence of external reporting in New Zealand – whether it is from the corporate, public or not-for-profit sectors," she said.
Carolyn is currently Professor of Charity Accounting and Accountability at Aston Business School in Birmingham, UK. She holds a position at the School of Accounting and Commercial law at Victoria University of Wellington, where she had also obtained her PhD and had worked since 2005. Carolyn was a NZASB Board member from 2011-2016.
Carolyn has undertaken commissioned research projects, published internationally, and is on the editorial board of several academic journals. She teaches risk management, financial reporting and audit. She is a Fellow of Chartered Accountants Australia and New Zealand and a Fellow of CPA Australia.
---
8 November 2019
New Chief Executive brings wealth of international experience
The External Reporting Board (XRB) has appointed April Mackenzie (pictured) as its new Chief Executive, welcoming her deep international and local experience at a time when global uncertainty and disruption make trust in external reporting is more important than ever.
Mackenzie has extensive experience in external reporting in New Zealand and internationally. She acted as Interim Chief Executive for the International Valuation Standards Council, following ten years as Global Head of Governance and Public Policy for Grant Thornton International, where she was a partner.
"April's experience with international standard-setting bodies will be invaluable" said Michele Embling, XRB Chair. "New Zealand's competitiveness relies on people having trust and confidence in our regulatory environment and external reporting of our entities across all sectors. Our stakeholders at home and overseas rely on reporting standards being robust, meeting accountability needs, and being suitable for an evolving business environment."
"April's considerable work with key international standards forums will help us as we contribute to global conversations around the evolving role of accounting and audit standards and ensure that our standards framework remains fit for purpose for the future and contributes to the sustainable and inclusive economic goals of New Zealanders."
Mackenzie was also previously Divisional Director of Policy for the New Zealand Institute of Chartered Accountants (now Chartered Accountants Australia and New Zealand) and has a background in accounting and auditing with Touche Ross & Co in the United Kingdom and New Zealand, the New Zealand Securities Commission and the New Zealand Audit Office. She has served as a technical advisor on the International Public Sector Accounting Standards Board (IPSASB)of the International Federation of Accountants (IFAC), the international body which also oversees the work of the International Audit and Assurance Standards Board (IAASB,). She has been a member of the International Financial Reporting Standards Advisory Council (IFRS), the Global Public Policy Committee, and the Joint Ethics Committee of the Consultative Committee of Accounting Bodies in the United Kingdom.
"Accountability and transparency form the foundations of the private, public and not-for-profit sectors. It is critical that there is confidence in financial information used within organisations and by markets. I am very pleased to join the External Reporting Board team, to contribute to the important and valuable work that they do," said Mackenzie.
She is a Fellow of Chartered Accountants Australia and New Zealand and holds a Master of Commerce (Hon) from University of Auckland. She replaces Chief Executive Warren Allen who retires in December, after four years in the role. April Mackenzie will commence in December.
---