Climate-related Disclosures
Introduction
In September 2020, the Government announced its intention to implement mandatory reporting on climate risks and tasked the XRB with developing reporting standards to support the new reporting regime. The comply-or-explain approach to climate-related disclosures will be mandatory for listed companies, Crown financial institutions, large insurers, registered banks and managers of investment schemes with more than $1 billion in assets. Subject to parliamentary approval, these entities could be required to make disclosures alongside wider year end reporting in 2023 at the earliest.
---
Our work to deliver Climate Related Disclosures (CRD)
Since the Government's announcement late in 2020, we've been building capacity and capability to deliver this work at pace and are working towards reporting entities delivering their first disclosures in 2023. Below is an outline of our timeline and planned actions, which we will continue to update as we progress in the development of the new reporting standards.

Developing the new reporting standards will be informed through engagement with a broad range of stakeholders - in particular, entities that will be subject to the regime as well as the investors who will benefit from it. In recognition of Aotearoa's uniqueness and in the spirit of partnership, we will also engage with Māori, with the aim of applying te ao Māori world view to this work.
Undertaking this work requires an extension to the XRB's mandate which will involve an amendment to legislation, due to take place this year.
---
Climate Related Disclosures and integrated reporting
Integrated reporting is the umbrella term we use to refer to broader and more detailed types of reporting beyond information presented in an entity's statutory financial statements.
It can include reporting information on an entity's governance, business model, risks, opportunities, prospects (including forward-looking financial information), strategies and economic, environmental, social and cultural impacts. It encapsulates sustainability reporting, non-financial reporting, pre-financial reporting, management discussion and analysis, management commentary, ESG reporting (Environmental, Social and Governance), corporate responsibility, community, environmental reporting and more.
We see the implementation of CRD as an important step towards integrated reporting in New Zealand.
---
The Task Force on Climate-Related Financial Disclosures
The expectation is that the new reporting standards will build on and align with the recommendations of the Task Force on Climate-Related Financial Disclosures (TCFD) while also taking account of international developments.
The TCFD was created in 2015 by the Financial Stability Board (FSB) to develop consistent climate-related financial risk disclosures for use by companies, banks, and investors in providing information to stakeholders.
The TCFD produced recommendations in 2017 that outline a framework for reporting climate-related information. To date, this has been the leading guidance on climate reporting and has received widespread support globally. Multiple countries are considering its recommendations, including Australia, Canada, the EU, and the United Kingdom.
The TCFD recommendations incorporate 4 key themes: governance, strategy, risk management, and metrics and targets. Under each theme, 11 disclosures are recommended.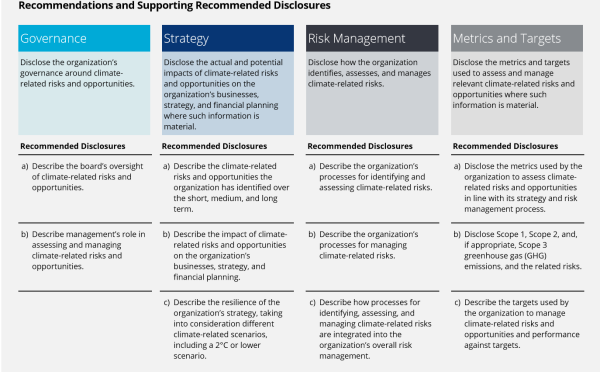 The TCFD has also produced general and sector-specific guidance on implementing its recommendations and will continue to develop further guidance.
---
International developments
While the rest of the world has been watching New Zealand take a lead on mandatory disclosures they are quickly catching up. A few months after the Government's announcement, the United Kingdom (UK) announced that they would mandate climate-related financial disclosures economy-wide. The UK's planned timeframe has us working on a similar schedule – under their implementation roadmap, most organisations will be expected to report by 2022.
Other international developments include:
In 2020, five leading global sustainability and integrated reporting organisations produced a Prototype Climate-Related financial Disclosure Standard. The prototype aims to provide a starting point, based on the TCFD's recommended disclosures, for the development of global standards on sustainability-related financial disclosures.
In 2019, the European Commission published non-binding guidelines on climate reporting, as a supplement to existing general guidelines on non-financial reporting. These were based on proposals from a Technical Expert Group on Sustainable Finance and integrated TCFD recommendations.
The Climate Measurement Standards Initiative (CMSI) is an Australian collaboration between insurers, banks, scientists, regulators, reporting standard professionals, service providers and supporting parties which has produced a set of voluntary standards, in an attempt to provide consistent and comparable financial disclosure guidelines under TCFD recommendations. Reports include financial disclosure guidelines and climate science guidance.
---
Contact Us
To contact the Project Team you can email us.