This update is for registered charities and other not-for-profit entities and will tell you about:

The NZASB's post-implementation review of the Tier 3 and Tier 4 Reporting Standards[1];
What a post-implementation review is; and
How you can tell us about what you like and what you don't like about using these standards and related materials.
| | |
| --- | --- |
| | Why not follow us on LinkedIn to catch up on our activities? |
---
[1] This review also covers the versions of the Tier 3 and Tier 4 Standards for public sector entities.
---
Review of the Tier 3 and Tier 4 Reporting Standards
Applies to:

---

Not-for-profitPublic Sector

---
Registered charities and other not-for-profit entities have been using the Tier 3 and Tier 4 standards issued by the NZASB since 2015.[2] Now that they have been in place for several years, the NZASB is carrying out a post-implementation review of the standards and wants to hear about how they are working for you.
What is a post‑implementation review?
Post-implementation reviews are an important part of standard setting and are usually done once a new standard has been used for a few years to make sure it is working as expected.
The goal of this post-implementation review is to hear from those of you who are applying the Tier 3 and Tier 4 standards about what is working well and what is not. The NZASB also wants to make sure that the application guidance helps you comply with the standards, and the optional Tier 3 and 4 performance report templates are fit for purpose and easy to use.
---
[2] Public Sector entities were required to use the Tier 3 and Tier 4 Standards from 2014.
---
Have your say…

We are seeking your feedback on the standards, explanatory guidance and reporting templates. The NZASB is reliant on your feedback to know how the standards are working and it is important that we hear from a wide range of not-for-profit entities, including you. Your feedback will help the NZASB determine whether changes to the standards, guidance and templates are needed.
We really want to hear from you!
We have three main ways you can give us your feedback. You can:
complete the online feedback form available on our website; or
complete our simple online survey.
Send us your feedback at any time, but we need to hear from you by 31 March 2021
The NZASB will consider all feedback received by this date.
Here is the indicative timeline for this Review.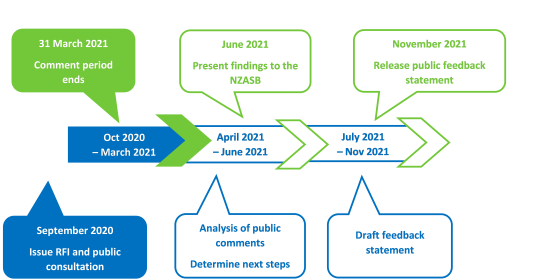 ---
More information
You can find more information on the review including links to the full request for information, standards, guidance, templates, and how to make a submission on the XRB Website by clicking the link below.
---
This Not-for-profit Update is intended to provide you with a summary of the recent activities of the External Reporting Board (XRB). Links to websites are correct at the time of publication. You should not rely on this newsletter as a definitive publication of updates. The External Reporting Board does not guarantee, and accepts no legal liability whatsoever arising from or connected to the accuracy, reliability, currency, timeliness or completeness of this newsletter. The information contained in this newsletter does not constitute advice and should not be relied upon as such.