This
NZAuASB Update
provides you with an overview of the New Zealand Auditing and Assurance Standards Board's recent activities, any new standards or FAQs, as well as other matters of interest.
---
| | |
| --- | --- |
| | Why not follow us on LinkedIn to catch up on our activities? |
---
NZAuASB June Meeting
Applies to:

---

AuditingProfessional & EthicalReviewOther Assurance

---
Highlights of the June meeting included:
Approval of the quality management suite of standards, including conforming and consequential amendments and amendments to Professional and Ethical Standard 1 dealing with the objectivity of the engagement quality reviewer and other appropriate reviewers.
Consideration of the IESBA's non-assurance services provisions and approval of an exposure draft in New Zealand.
Approval of an exposure draft proposing limited conforming amendments to New Zealand Auditing Standard 1, The Audit of Service Performance Information, arising because of international revisions to the ISAs, including changes to ISA 315 (Revised 2019)[1].
Meeting with representatives from CA ANZ to discuss current issues and collaboration opportunities.
An update on IAASB activities from Lyn Provost, IAASB member.
An update from NZASB staff and discussion on the IASB's proposed new approach to disclosure requirements.
---
Farewell to Sylvia and Karen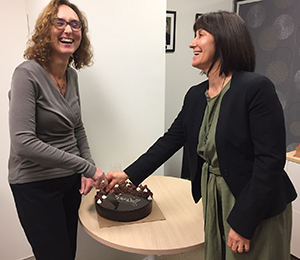 At the June meeting we took the opportunity to say farewell to two key people who have had a long association with the NZAuASB. We said goodbye to Board member Karen Shires and to XRB's Director of Assurance, Sylvia van Dyk—both who have been associated the NZAuASB since its inception in 2011 and well known and respected for their contribution to the assurance standard-setting world.
We wish you both the very best for whatever you choose to do in future and are thankful for your involvement and support over the years to the NZAuASB.
---
First-time implementation guidance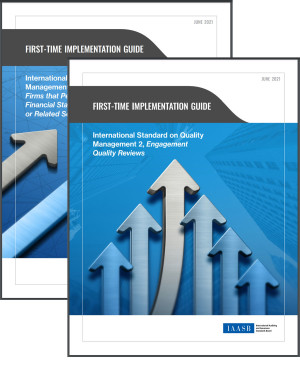 The NZAuASB has approved and will soon gazette the revised quality management standards in New Zealand. The IAASB has released two guides to help firms implement the revised quality management standards:
First-time Implementation Guide for International Standard on Quality Management (ISQM) Quality Management for Firms that Perform Audits or Reviews of Financial Statements, or Other Assurance or Related Services Engagements.
First-time Implementation Guide for ISQM 2, Engagement Quality Reviews.
The revised quality management standards come into effect on December 15, 2022.
The XRB encourages you to plan early for appropriate implementation, given the potential impact of the changes to firms' systems of quality management.
---
Exposure Draft: Amendments to NZ AS 1
| | |
| --- | --- |
| | Applies to: |
The NZAuASB has issued NZAuASB ED 2021/3 Conforming and Consequential Amendments to NZ AS 1 The Audit of Service Performance Information arising because of the revision of ISA (NZ) 315 (Revised 2019).
The proposals are limited in nature to reflect new concepts and terms consistently with the ISAs (NZ), however are not intended to repeat the requirements of ISA (NZ) 315 (Revised 2019) with respect to service performance information, given that the auditor is required by NZ AS 1 to apply the ISAs NZ to the audit of service performance information.
The NZAuASB encourages you to read the exposure draft and to comment on the proposals by 17 September 2021.
---
Have your say

We are currently consulting on the matters set out in the table below.
We welcome your comments and feedback, either formal or informal, by the due dates below.
You can submit your comments directly from the Exposure Draft page on our website following the links below.
Consultation Page

Title

Comments Due to NZAuASB

Comments Due to IAASB/
IESBA

17 Sep 2021

N/A
---
[1] ISA 315 (Revised 2019) Identifying and Assessing the Risks of Material Misstatement
---
This NZAuASB Update is intended to provide subscribers with a summary of the recent activities of the New Zealand Auditing and Assurance Standards Board (NZAuASB). Links to websites are correct at the time of publication. Subscribers should not rely on this newsletter as a definitive publication of updates. The External Reporting Board and its sub-Board the NZAuASB do not guarantee, and accept no legal liability whatsoever arising from or connected to, the accuracy, reliability, currency, timeliness or completeness of this newsletter. The information contained in this newsletter does not constitute advice and should not be relied upon as such.