Need to Know series: Assurance Update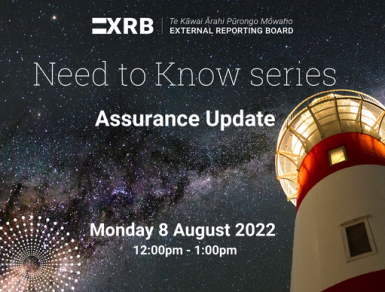 Hear directly from the External Reporting Board's (XRB) Assurance team on recent or proposed changes to the Auditing and Assurance standards.
This session will provided an overview of the key changes that come into effect from December 2022, together with recent approvals and why they have been developed. As well as helping you prepare for adoption, this event provided the opportunity to hear about proposals open for comment and how to provide feedback.
Revisions that are effective from December 2022
Quality management
Fees
Non-assurance services
Other recent approvals
Group audits
Deferral of NZ AS 1
Open for comment
NZ definition of a public interest entity
Assurance over Financial Information Prepared in Connection with a Capital Raising
Proposals in development
Greenhouse gas assurance requirements
Audit evidence
Going concern
Watch the recording here.
The slides from the presentation can be found here.
8
August
Date And Time
Location:

This event has ended